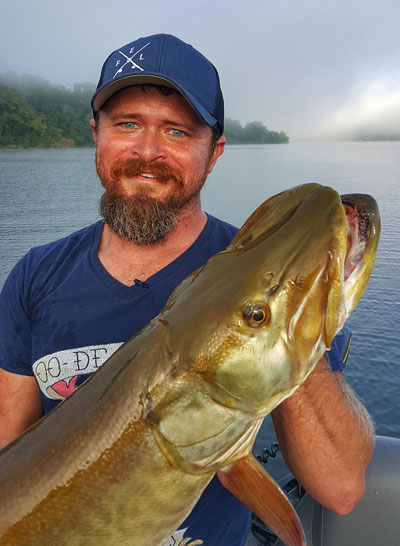 Cory Allen
Cory Allen, known as the Tennessee Muskie Authority, has years of expertise in muskie fishing. He is a skilled guide in the Tennessee River drainage basin, specializing in understanding muskellunge behavior and environmental conditions. Allen's dedication to his craft and continuous learning make him a valuable resource for both seasoned and novice anglers.
Videos
Instructor's videos
About Instructor
Cory Allen, known affectionately as the Tennessee Muskie Authority (TMA), is the epitome of deep knowledge and expertise in the field of muskie fishing. This moniker, a witty reference to the Tennessee Valley Authority (TVA), holds a geographical connection with the Tennessee River drainage basin. It is this very area, stretching from southwest Kentucky to north Georgia and encompassing parts of northeast Mississippi, Virginia, and North Carolina, where Allen's muskie fishing mastery shines brightest.

Allen, through his years of dedication and relentless pursuit of knowledge, has earned a well-deserved reputation as one of the most skilled muskie guides in the United States. His understanding of muskellunge behavior, and the ability to articulate complex concepts such as the interplay of environmental and atmospheric conditions on fishing outcomes, sets him apart in the industry.

The depth of Allen's knowledge is not accidental but the product of years of diligent study and in-field experience. From understanding the various types of fisheries and their distinct dynamics to analysing factors such as prevailing current, water temperature, food sources, and ideal lures, Allen leaves no stone unturned in his quest for muskie expertise.

Though he is a recognized authority, Allen maintains a humble approach to his craft, continuously
seeking to improve and expand his skills and knowledge - a dedication reminiscent of the pursuit
embodied by a Sifu in martial arts. Allen's journey of self-discovery and mastery in muskie fishing is an ongoing journey rather than a final destination.

Whether you're a seasoned angler looking to hone your skills or a novice with a desire to learn from the best, Cory Allen is the Tennessee muskie guide you want on your team. For those unable to join him on the water, his wealth of knowledge can be accessed through dozens of instructional fishing videos available on In The Spread. Sharing his unparalleled expertise in so generous of an expression is so enriching to those lucky enough to fish with this global musky fishing ambassodor. Cory Allen has indeed turned his passion for muskie fishing into a legacy of knowledge and guidance.